Jim Jarmusch's "Broken Flowers" is a contemplative masterpiece that takes the audience on a poignant voyage through the life of a man coming to terms with his past. With Bill Murray's remarkable portrayal of Don Johnston, the film delivers a meditative and subtly moving narrative, inviting viewers to reflect on the complexities of human connections and the lasting echoes of our choices.
Plot and Characters:
The film centers on Don Johnston, an aging former womanizer who receives an enigmatic letter claiming he has a son from a past relationship. Puzzled by this revelation, Don embarks on a cross-country journey to reconnect with his former lovers and find the mother of his child. As he revisits these women, "Broken Flowers" delves into themes of memory, remorse, and the inexorable march of time.
Bill Murray's performance as Don Johnston is nothing short of mesmerizing, capturing the quiet intricacies of a man who has drifted through relationships without forming lasting bonds. The supporting cast, featuring Sharon Stone, Tilda Swinton, Frances Conroy, and Jessica Lange, contribute compelling performances that enrich the tapestry of Don's past.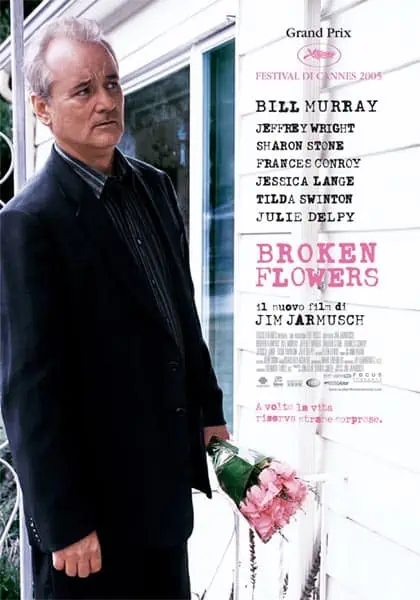 Quotes from the Movie:
"I'm looking for a pink (anonymous) letter. Do you know anything about that?" – Don Johnston Don's quest for the mysterious pink letter sets the film's enigmatic tone and underscores his emotional journey.
"I imagine your life must be full of girls now, Don. A lot of girlfriends. A lot of action. But you never tell me about any of that." – Laura (Sharon Stone) Laura's poignant remark sheds light on the solitude beneath Don's façade, exposing his apparent romantic pursuits as a veneer.
"The past is gone; it's not coming back. You're a sad character." – Winston (Jeffrey Wright) Winston's assessment of Don highlights the film's thematic exploration of nostalgia and missed opportunities.
"People like you are the scum of the earth. I never want to see you again." – Dora (Frances Conroy) Dora's embittered response to Don underscores the consequences of his past actions, emphasizing the overarching theme of regret.
"I don't know what it's like, you know, to have kids. You know, but you get to see them grow up, to be right there." – Don Johnston Don's reflection on the experiences he missed out on serves as a poignant reminder of the regrets that shadow him throughout the film.
Conclusion:
"Broken Flowers" is an evocative film that artfully explores the fragility of human connections, the relentless march of time, and the weight of unspoken regrets. Jim Jarmusch's masterful direction and Bill Murray's exceptional performance combine to create a movie that leaves a lasting impression. It's a poetic odyssey into the realm of remorse, compelling us to confront the consequences of our past actions and relationships, whether we choose to do so or not.