The life and adventures of the Ingalls family in the 19th century American West.
This award-winning family drama was based upon Laura Ingalls Wilder's 9-part series of autobiographical books. Television producer and NBC executive Ed Friendly became aware of this enduring story in the early 1970s. He asked Michael Landon to direct the pilot movie, who agreed on the condition that he could also play Charles Ingalls.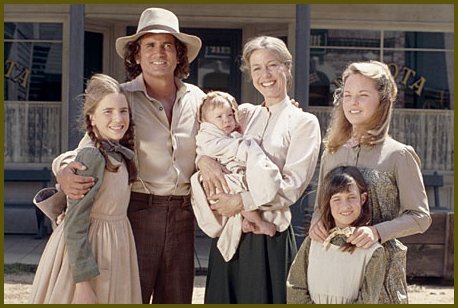 TV Series: Drama | Family | Romance
Writer: Ande Lamb
Stars: Melissa Gilbert, Michael Landon and Lindsay Greenbush
Plot: Based on the popular "Little House" book series by Laura Ingalls-Wilder, this hour long dramatic series followed the frontier lives of Charles and Caroline Ingalls, and their three young daughters: Mary, Laura and Carrie.
TIME: beginning in the 1870s.
PLACE: the American frontier – more specifically, Walnut Grove in the state of Minnesota.
THE CHARACTERS:
Charles/Pa Ingalls: a homesteader farmer/woodworker; compassionate and loving, yet quick-tempered and ready to throw a defensive punch whenever necessary.
Caroline/Ma Ingalls: Patient and understanding wife and mother; the ideal prairie woman.
Laura Ingalls Wilder: The winsome, tomboyish second daughter of Charles and Caroline, who serves as the voice of the entire series, and eventually married Almanzo Wilde.
Mary Ingalls Kendall: Charles and Caroline's pretty and ultra-responsible oldest daughter, who longs to be a teacher and goes completely blind at the age of 15. She later marries Adam Kendall.
Carrie Ingalls: The cute third daughter of Charles and Caroline, who didn't have a large role but was always portrayed as a very sweet little girl.
Grace Ingalls: Charles and Caroline's fifth and final child, who was only about 4 when her role in the series ended.
Jack: the loyal, lovable family dog, who was replaced by Bandit when he died in Season 4.
Albert Quinn Ingalls: The fictional adopted son of Charles and Caroline–an orphaned runaway whom the Ingalls meet while living temporarily in Winoka.
James Cooper Ingalls: The fictional adopted son of Charles and Caroline, who comes to live with them after the death of his parents.
Cassandra Cooper Ingalls: The fictional adopted daughter of Charles and Caroline, and the younger sister of James Supporting characters include.
Miss Eva Beadle: The first teacher of Walnut Grove, who taught Laura to read and helped Mary realize her dream to teach Dr. Hiram Baker: the loyal town physician Reverend.
Robert Alden: The town's devout and hugely caring Church minister.
Mr. Isaiah Edwards: The mountain-man/drifter-turned-farmer who settled in Walnut Grove, who had a drinking problem and, despite his happy-go-lucky exterior, had a lot of emotional turmoil in his life.
Grace Snider: A widow and town postmistress who marries Isaiah and adopts three orphaned children with hi.
John Sanderson Edwards: the oldest adopted son of Isaiah and Grace, who lives with them after the death of his widowed mother, and becomes a writer.
Carl Sanderson Edwards: Isaiah and Grace's second adopted child.
Little House on the Prairie – First Christmas