In 1989, Jason Donovan released a cover version as the third single from his debut album, Ten Good Reasons.His version topped the UK Singles Chart for two weeks and also reached number-one in Finland and Ireland.
Old Versions.
"Sealed with a Kiss" is a song written by Peter Udell and Gary Geld. It was first recorded by The Four Voices in 1960 as a single, but their recording was not a hit.
In 1962, Brian Hyland, who often performed Udell and Geld's material, covered the song. Hyland's single began its run on 6th June 1962 and became a hit, reaching #3 on both the Billboard Hot 100 and the UK Singles Chart.When re-released in 1975, Hyland's recording charted in the UK at # 7. Hyland also recorded a version in German. The German version 'Einen Sommer Lang' was also recorded by Belgian artiste Dana Winner. Also in 1962, an Italian version, titled 'Sigillata Con Un Bacio', was recorded by Luigi Fiumicelli. Gary Lewis and the Playboys released a single in 1968. Their cover version was a Billboard #19 hit and placed high on the Hot 100.
A third Top 40 Hot 100 version came in 1972, when Bobby Vinton released a single, again reaching #19 in the Billboard singles charts.This version also placed high on Billboard's adult contemporary chart. Bobby Vinton's recording was used in both the trailer and end credits of the 2007 film All the Boys Love Mandy Lane.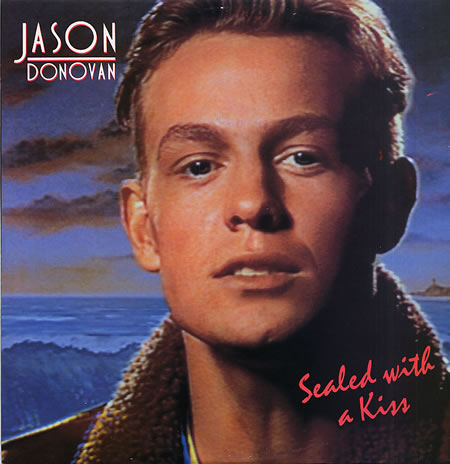 Sealed With A Kiss Lyrics
Though weve got to say goodbye for the summer
Darling, I promise you this
I'll send you all my love everyday in a letter
Sealed with a kiss
Yes it's gonna be a cold, lonely summer
But I'll fill the emptiness
I'll send you all my dreams everyday in a letter
Sealed with a kiss
I'll see you in the sunlight
I'll hear your voice everywhere
I'll run to tenderly hold you
But darling you wont be there
I don't want to say goodbye for the summer
Knowing the love well miss
Oh, let us make a pledge to meet in september
And seal it with a kiss
Yes, it's gonna be a cold, lonely summer
But I'll fill the emptiness
I'll send you all my dreams everyday in a letter
Sealed with a kiss
Sealed with a kiss
Sealed with a kiss