A terrorist plants several bombs throughout the city of Colombo, Sri Lanka and threatens to detonate them unless prisoners are released.
(A movie Shot in Beautiful Sri Lanka.)
Cast
The MAN    —    Ben Kingsley
DIG    —    Ben Cross
IP Mohideen    —    Patrick Rutnam
IP Ranjan    —    Frederick James Lobato
Dilky    —    Numaya Siriwardena
SP Victor    —    Jerome De Silva
Dilfer    —    Dushyanth Weeraman
Chief Secretary    —    Mohammed Adamaly
Sergeant Bernard    —    Kian O'Grady
Aisa    —    Susan Zareena
Chief Minister    —    Lucky Wickremanayake
Vegetable Seller    —    Veena Jayakody
Akthul Majood    —    Ashan Dias
Prakash Kumar    —    Wilson Gunaratne
D. Gopinath    —    Sando Harris
Sunil Master    —    Wilman Sirimanne
TV Cameraman    —    Pujitha Kanchana
Pithala Nihal    —    Teddy Vidyalankara
Officer Ganeshan    —    Dhanam Senathirajah
Officer Warner    —    Suresh Weththasinghe
Sketch Artist    —    Roshi Sanderasegaram
Crew
Producer    —    Manohan Nanayakkara
Adapted Screenplay & Direction    —    Chandran Rutnam
Production Designer    —    Sunil Wijeratne
Director of Photography    —    Chandana Jayasinghe
Editor    —    James Rutnam
Music by    —    Ramesh Vinayakam
Sound Designers    —    S Sivakumar, Vijay Rutnam
Producers    —    B S Radha Krishnan, Chandran Rutnam
Associate Producers    —    D Ravichandra Babu, Sumeet Aggarwal
Executive Producers    —    Paul Mason, Jon Sheinberg
Co-producers    —    Ravi Shankar Prasad, Manohar Prasad
Plot : Kingsley's character is a man pushed to his limits and that he eventually resorts to violent means. The film's tagline is also as good as a synopsis – "Five bombs in the city. The clock is ticking". It is more difficult to tell, though, who the creators' sympathies are supposed to lie with – the loose cannon or the ruthless cop? The audience will find their allegiance swinging from one to the other.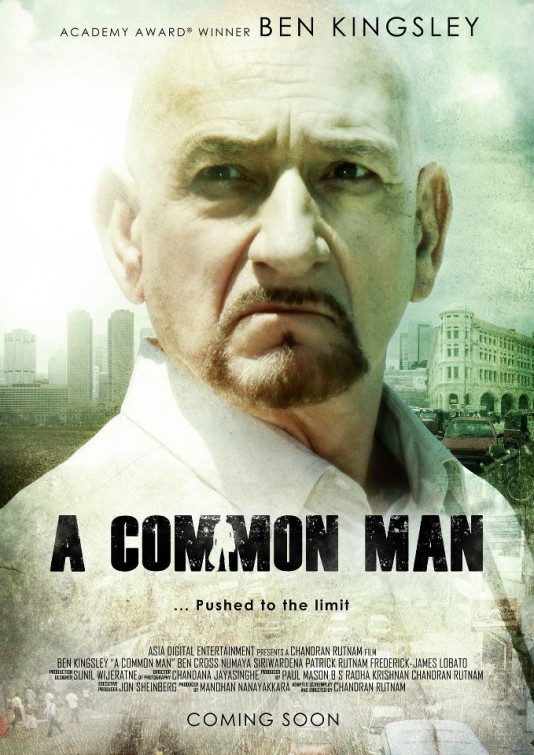 A Common Man is a production of Asia Digital Entertainment which produced the feature film, The Road From Elephant Pass, a Finalist Award winner at the 2011 New York International Television and Film Awards. The film is adapted for the screen and directed by Chandran Rutnam. A Common Man is produced by Manohan Nanayakkara, B.S. Radha Krishnan and Chandran Rutnam.
In A Common Man, which is set in Colombo, Sri Lanka, a mysterious man (Kingsley) has planted 5 bombs in the politically-scarred city that are set to explode unless four major terrorists are immediately released from prison. When he calls in his demands to the Deputy Inspector General of the Colombo Police Department (Cross), a confrontation ensues that sets off this exciting, non-stop action film that pits truth versus duty in a thrilling duel to the end.
The Academy Award winning Ben Kingsley's (Gandhi) recent credits include Martin Scorsese's Shutter Island and Jerry Bruckheimer's Prince of Persia: The Sands of Time. Other recent projects include Hugo, from director Martin Scorsese, with Sacha Baron Cohen and Chloe Grace Moretz, and The Dictator, which also stars Sacha Baron Cohen.
Ben Cross (Chariots of Fire) recently co-starred with John Cusack in the independent film War, Inc. and opposite Cuba Gooding, Jr. and Ray Liotta in Hero Wanted. Other recent projects include Star Trek, directed by J.J. Abrams, and starring roles in the mini-series Ben Hur for the BBC, the mini-series Ice opposite Sam Neill and Lifetime's William & Kate.