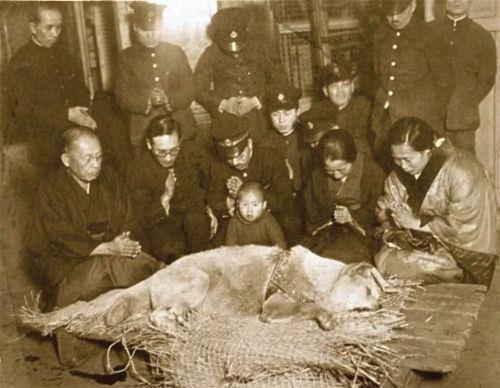 The last picture of Hachiko. The photo was found and is being donated to a museum in Shibuya, Japan.
Hachikō (ハチ公?, November 10, 1923 – March 8, 1935), known in Japanese as chūken Hachikō (忠犬ハチ公 "faithful dog Hachikō" ['hachi' meaning 'eight', a number referring to the dog's birth order in the litter, and 'kō', meaning prince or duke],
Hachiko was born in Odate, Japan in November 1923, a white male Akita dog. At the age of two months, he was sent to the home of Professor Ueno of the Agricultural Department of the Tokyo University. The professor's home was in the Shibuya district of Tokyo. The professor commuted to the agricultural department in Komaba and the agricultural experimental station in Nishihara.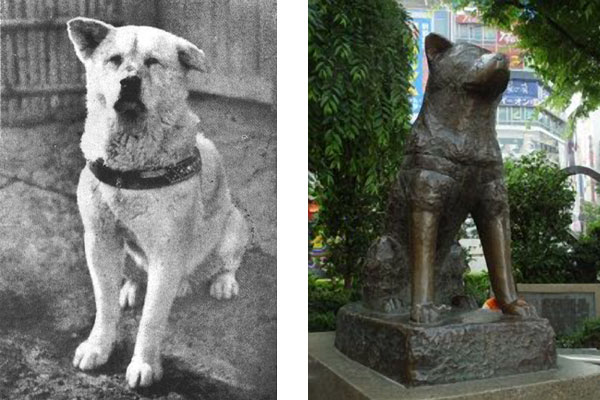 Tragedy struck on May 21, 1925, when Dr. Ueno did not return because he had suffered a stroke and died at the university. Hachiko was eighteen months old. The next day and for the next nine years, Hachiko returned to the station and waited for his beloved master before walking home, alone. Nothing and no one could discourage Hachiko from maintaining his nightly vigil. It was not until he followed his master in death, in March l934, that Hachiko failed to appear in his place at the railroad station.
Hachiko was sent to homes of relatives or friends, but he always continued to await his master, who was never to return, at the train station.
The fidelity of Hachiko was known throughout Japan, owing to an article, "Faithful Old Dog Awaits Return of Master Dead for Seven Years" in the October 4, 1933 issue of Aashi Shinbun (Asahi News). Upon his death, newspaper stories led to the suggestion that a statue be erected in the station. Contributions the from the United States and other countries were received. Today, the statue of the Akita, Hachiko, pays silent tribute to the breed's faithfulness and loyalty. A bronze statue of Hachiko was put up at his waiting spot outside the Shibuya railroad station, which is now probably the most popular rendezvous point in Shibuya. Hachiko was mounted and stuffed and is on now on display at the Tokyo Museum of Art.