Year – 2008
Movie – Bachna Ae Haseeno
Cast – Ranbir Kapoor, Katrina Kaif, Deepika Padukone, Bipasha Basu, Minissha Lamba
Director – Siddharth Anand
Music Director – Vishal & Shekhar
Song – Khuda Jaane
Lyrics – Anvita Dutt Guptan
Singer – KK and Shilpa Rao
The story of a young man and the three loves of his life, from 1996 to 2008.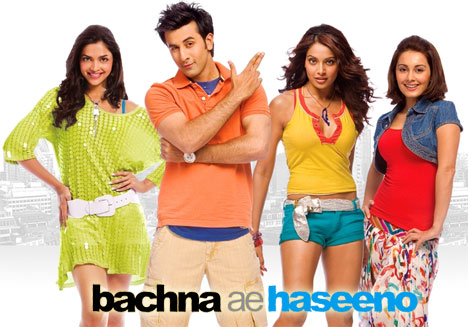 Plot : During 1996 Raj Sharma, while in Switzerland, meets with Amritsar-based Mahi Pasricha, successfully woos, then dumps her. Then during 2002, he meets with aspiring model, Radhika, who is also attracted to him, and both move-in to live together in a small apartment in Mumbai. When he gets the opportunity to settle in Sydney, Australia, he dumps her and re-locates there. Now it is 2006, and Raj has met a brilliant taxi-driver, Gayatri, who he falls in love with. The question remains, will his attraction again be temporary? And what will be the consequences if Gayatri finds out about his past?
Khuda Jaane Lyrics & Translation
Sajde mein yun hi jhukta hoon,
(I bow down to you, yet I don't know why…)
tum pe hi aa ke rukta hoon,
(I come to a halt whenever I see you…)
kya yeh sab ko hota hai,
(does this happen to everyone in love?…)
hum ko kya lena hai sab se,
(why should we think of anyone else?…)
tum se hi sab baatein ab se,
(you are the centre of all my thoughts now…)
ban gaye ho tum meri dua,
(you have come to be my prayer…)
sajde mein yun hi jhukta hoon,
tum pe hi aa ke rukta hoon,
kya yeh sab ko hota hai,
hum ko kya lena hai sab se,
tum se hi sab baatein ab se,
ban gaye ho tum meri dua,
khuda jaane ke main fida hoon,
(God knows, I am head-over-heels in love with you…)
khuda jaane main mitt gaya,
(God knows, I am all lost in your love…)
khuda jaane yeh kyun hua hai,
(maybe God knows why all this has happened…)
ke ban gaye ho tum mere khuda,
(that you are my God nowadays….)
tu kahe to tere hi kadam ke
main nishanon pe,
(if you say so, then I'll follow your footsteps…)
chalun rukun ishaare pe,
(stop or begin on their each signal…)
tu kahe to khwaabon ka bana ke
main bahana sa,
(if you say so, on pretext of coming in your dreams…)
mila karun sirhaane pe
(… I'll meet you each night at your pillowside)
ho, tum se dil ki baatien seekhi,
(I learnt all about love from you…)
tum se hi yeh raahien seekhi,
(and I learnt the ways of love from you…)
tum pe marr ke main to,
jee gaaya
(by dying for you, I lived an entire life…)
khuda jaane ke main fida hoon,
khuda jaane main mitt gaya,
khuda jaane yeh kyun hua hai,
ke ban gaye ho tum mere khuda,
dil kahe ke aaj to,
(the heart wishes that today…)
chupa lo tum panahon mein,
(.. you should hide me in your embrace…)
ke darr hai tum ko kho doonga
(I fear that I might lose you…)
dil kahe sambhal zara khushi ko
(the heart asks me to control my happiness…)
na nazar laga,
(and save it from the evil eye…)
ke darr hai main to ro doonga
(the heart fears that I might cry…)
o karti hoon sau vaade tum se,
(I make a hundred promises to you…)
baandhe dil ke dhaage tum se,
(I bind the strings of my heart with you…)
yeh tumhe na jaane kya hua
(while you might not know what has happened to me in love…)
khuda jaane ke main fida hoon,
khuda jaane main mitt gaya,
khuda jaane yeh kyun hua hai,
ke ban gaye ho tum mere khuda,
sajde mein yun hi jhukta hoon,
tum pe hi aa ke rukta hoon,
kya yeh sab ko hota hai,
hum ko kya lena hai sab se,
tum se hi sab baatein ab se,
ban gaye ho tum meri dua,
khuda jaane ke main fida hoon,
khuda jaane main mitt gaya,
khuda jaane yeh kyun hua hai,
ke ban gaye ho tum mere khuda,