The life of a simple bookshop owner changes when he meets the most famous film star in the world.
Genre: Comedy | Romance
Director: Roger Michell
Writer: Richard Curtis
Stars: Hugh Grant, Julia Roberts and Richard McCabe
Plot: Every man's dream comes true for William Thacker, an unsuccessful Notting Hill bookstore owner, when Anna Scott, the world's most beautiful woman and best-liked actress, enters his shop. A little later, he still can't believe it himself, William runs into her again – this time spilling orange juice over her. Anna accepts his offer to change in his nearby apartment, and thanks him with a kiss, which seems to surprise her even more than him. Eventually, Anna and William get to know each other better over the months, but being together with the world's most wanted woman is not easy – neither around your closest friends, nor in front of the all-devouring press.
Famous OST from Notting Hill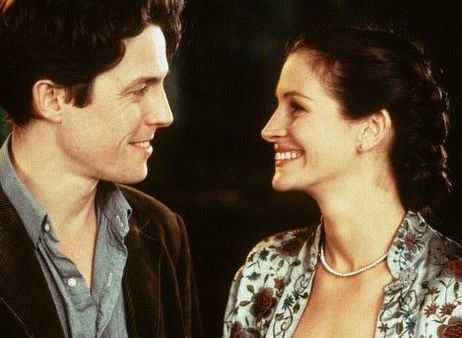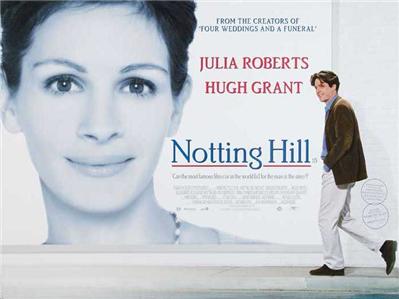 Memorable quotes from the "Notting Hill"
William: I live in Notting Hill. You live in Beverly Hills. Everyone in the world knows who you are, my mother has trouble remembering my name.
Anna Scott: I'm also just a girl, standing in front of a boy, asking him to love her.
Anna Scott: You know what they say about men with big feet.
William: No, I don't, actually. What's that?
Anna Scott: Big feet… large shoes.
P.R. Chief: Dominic… if you'd like to ask your question again?
Journalist: Yes. Anna, how long are you intending to stay here in Britain?
Anna Scott: [pause] Indefinitely.
Keziah: No thanks, I'm a fruitarian.
Max: I didn't realize that.
William: And, ahm: what exactly is a fruitarian?
Keziah: We believe that fruits and vegetables have feeling so we think cooking is cruel. We only eat things that have actually fallen off a tree or bush – that are, in fact, dead already.
William: Right. Right. Interesting stuff. So, these carrots…
Keziah: Have been murdered, yes.
William: Murdered? Poor carrots. How beastly!
Max: You haven't slept with her, have you?
William: That is a cheap question and the answer is, of course, no comment.
Max: "No comment" means "yes."
William: No it doesn't.
Max: Do you ever masturbate?
William: DEFINITELY no comment.
Max: You see? It means "yes."
William: It's as if I've taken love heroin, and now I can't ever have it again.
Anna Scott: Can I stay for a while?
William: You can stay forever.
Spike: There's something wrong with this yogurt.
William: Ah, that's not yogurt, that's mayonnaise…
Spike: Ah, right-o then.
[continues to eat it]
William: Is this your first film?
12-yr-old Actress: Well… actually it's my 22nd!
William: Any favorites among the 22?
12-yr-old Actress: Working with Leonardo.
William: DaVinci?
12-yr-old Actress: DiCaprio.
William: Of course. And is… is he your favorite Italian director?
Anna Scott: So who left who?
William: She left me.
Anna Scott: Why?
William: She saw through me.
Anna Scott: Uh oh. That's not good.
William: So how is he?
Anna Scott: I don't know. It just got to the point where I couldn't remember any of the reasons why we were together.
William: Would you like a cup of tea before you go?
Anna Scott: No.
William: Orange juice? No, probably not… something else cold? Coke? Water? Some disgusting sugary drink pretending to have something to do with fruits of the forest?
Anna Scott: No.
William: Do you… always say no to everything?
Anna Scott: [thinks] No.
Spike: Bugger this for a bunch of bananas.
Bernie: What's the pay like in movies? I mean. Last movie. How much did you get paid?
Anna Scott: 15 million dollars.
William: Max, this is Anna.
Max: [Smiles politely and shakes hands with Anna] Hello Anna
[Suddenly comes to a realisation as to whom Anna is]
Max: Scott!
P.R. Chief: Next question? Yes. You in the pink shirt.
William: Uh, right. Miss Scott, are there any circumstances that you and he might be more than just friends.
Anna Scott: I hoped that there would be but I've been assured that there's not.
William: Yes, but what if…
P.R. Chief: I'm sorry. Just the one question.
Anna Scott: No. It's alright. You were saying?
William: I was just wondering what if this person…
Journalist: Thacker. His name is Thacker.
William: Right. Thanks. What if, uh, Mr. Thacker realized that he had been a daft prick and got down on his knees and begged you to reconsider if you would… indeed… reconsider.
Anna Scott: [pause] Yes. I believe I would.
William: That's wonderful news. The readers of Horse and Hound will be relieved.
Bella: The more I think about things, the more I see no rhyme or reason in life. no one knows why some things work out and some things don't. Why some of us are lucky and some of us get…