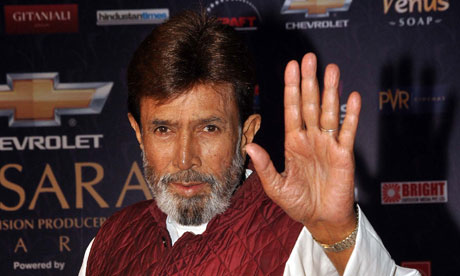 Rajesh Khanna, the first Hindi film actor to gain superstar status in Indian films, has died after a brief illness, according to media reports. He was 69.
The Press Trust of India news agency said the actor had died at his home in Mumbai on Wednesday. It said his wife, the actress Dimple Kapadia, and two daughters were at his bedside when he died.
Khanna began his career in the mid-1960s in romantic films that were hugely popular. He played the lead in 170 movies and won scores of awards in a three-decade career in Bollywood, India's Hindi film industry.
His enormous success was a new phenomenon in India. Screaming fans surrounded him whenever he appeared in public. Women "married" his photograph and wrote him letters in their blood.
About Rajesh Khanna
Rajesh Khanna (born Jatin Khanna on 29 December 1942) is an Indian Bollywood actor and politician.
During his career, he appeared in over 180 films. He won three Filmfare Best Actor Awards and was nominated for the same fourteen times. He was awarded the Filmfare Lifetime Achievement Award in 2005. Khanna is referred to as the "First Superstar" of Indian cinema. He had "the biggest and the maddest fan following, especially his female fans," which, according to Entertainment One India, has not been duplicated since he rose to fame in the 1970s.
He served a five year tenure as MP in the Indian parliament (1991–1996).
List of Rajesh Khanna Movies
Bawarchi
Kati Patang
Mehboob Ki Mehndi
Dushmun
Mere Jeevan Saathi 1972
Namak Haraam
Aradhana
Aakhri Khat
Aan Milo Sajna
Raaz (1967)
Daag
Mehbooba
Anurodh
Chhaila Babu
Agar Tum Na Hote
Haathi Mere Saathi
Aashiq Hoon Baharon Ka
Anand
Amar Deep
Swarg
Aakhir Kyon
Chalta Purza
Awara Baap
Amar Prem
Aap Ki Kasam
Do Raaste
Awards
1974 – Filmfare Best Actor Award for Avishkaar.
1971 – Filmfare Award for Best Actor for Sachaa Jhutha.
1995 – Winner Kala Ratna Award.
1973 – Filmfare Special Guest Actor Award for Anuraag.
1972 – Filmfare Best Actor Award for Anand.
1991 – Filmfare Special Award for completing 25 years in the Indian Film Industry.
2005 – Filmfare Lifetime Achievement Award.
He is a lifetime member of the International Film & Television Research Centre.
Rajesh Khanna's famous  film songs
Ye Shaam Mastani – Kati Patang [1970]

Pyar Deewana Hota Hai – Kati Patang [1970]


Director: Shakti Samanta
Writers: Vrajendra Gaur (dialogue), Gulshan Nanda (story)
Stars: Rajesh Khanna, Asha Parekh and Prem Chopra
Plot: A runaway bride promises her dying widowed friend that she will assume her identity and look after her infant child.
O Mere Dil Ke Chain – Mere Jeevan Saathi [1972]

Director: Shakti Samanta
Writers: Vrajendra Gaur (dialogue), Gulshan Nanda (story)
Stars: Rajesh Khanna, Asha Parekh and Prem Chopra
Plot: Dashing pilot Arun romances Vandana Tripathi, and both in love with each other, become very intimate, and as a result Vandana gets pregnant. Arun and Vandana have a quiet temple wedding ceremony, and Arun leaves to re-join his duties. Unfortunately, Arun is killed, and Vandana is unable to convince anyone of her marriage with him, and as such must re-locate to hide her shame. She gives birth to a baby boy, who she must place in an orphanage, and then adopt. Unfortunately for her, the boy, Suraj, is adopted by someone else. She manages to find out their whereabouts, and gets a job as a servant. When she is about to be molested by Shyam, a relative, Suraj witnesses this, and kills him. Vandana takes the blame for this killing and is sentenced to imprisonment, leaving her son and her life behind, for a crime she did not commit. When she returns everything has changed, and she is unable to locate the family where her son was.
Mere Sapnon Ki Rani – Aradhana [1969]

Director: Ravikant Nagaich
Writers: Ramesh Pant (dialogue), Ramesh Pant (script), and 2 more credits »
Stars: Rajesh Khanna, Tanuja and Sujit Kumar
Plot: A talented artist (Rajesh Khanna) falls in love with a London-returned doctor, but his past creates problems for him. When that part of his past is resolved and he is to marry the girl he loves, he loses his eyesight in an accident and wounds up a prisoner of a cruel princess. He escapes, and is helped by another man, who nurtures and allows him to recuperate. When the artist returns home to find that the girl he wants to marry is engaged to the man who helped him recover. These songs are still popular: "Kitne arman, kitne sapne laya hoon main dekko na…"; "Diwana lekke aaya hai dil ka karaar, dekho kahin yaaron tukra na dena mera nazrana…"; "Diwana karke chodoge lagta hai yoon humko, sau bar kaha eh jane jahan yu pyar se tum dekka na karo…"; "O mere dil ke chain, chain aye mere dil ko dua kijiye…"; "Chala jata hoon kisiki dhoon me dadakte dil ke tarane liye…"