(June 25th, Michael Jackson death anniversary)
Sonu Nigam performed with Jermaine Jackson at the 12th International Indian Film Academy Awards 2011(IIFA 2011) as a tribute to Michael Jackson.(http://www.iifa.com/toronto2011/)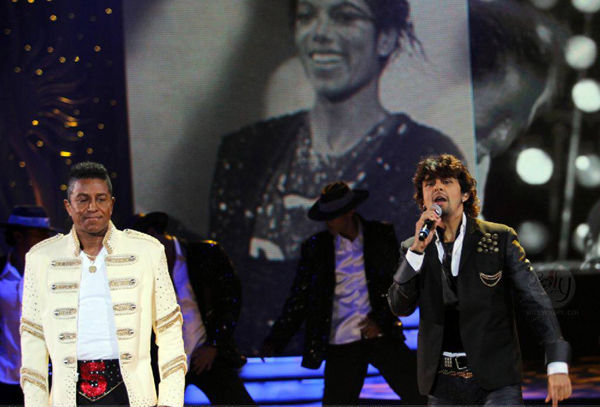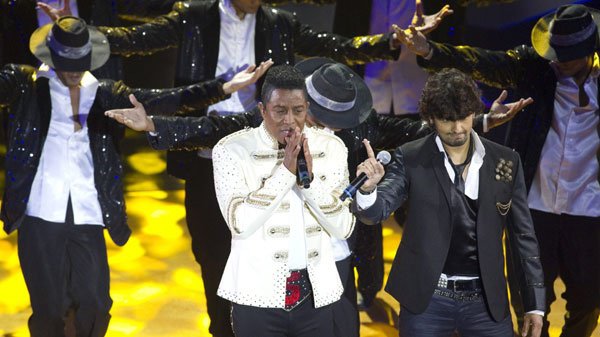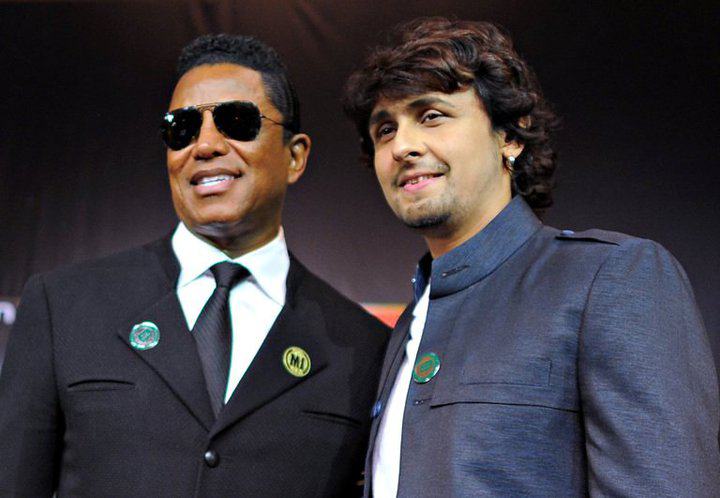 Jermaine Jackson performed a nostalgic tribute concert  to his late brother Michael Jackson to mark the second anniversary of the pop star's death as part of the 12th Indian International Film Academy Awards festivities in Toronto(2011).
The duo sang This Is It, a song written by Sonu Nigam, in remembrance of the 'King of Pop', who died on June 25, 2009 at age 50, just weeks before his much awaited comeback tour of the same name.
Jermaine ended the high octane performance amid loud cheers from the audience.
"First I want to say how much I love you/ Because I see Michael in each one of you," the singer added.
Nigam said he was teary eyed when Michael passed away two years ago and had written and composed the song in his memory.
"Little did I know that Michael would send his respected elder brother Jermaine to sing it with me. This is truly a special moment for me," Nigam said.
Dressed in a Michael Jackson-inspired outfit, complete with a red military-style jacket, V-neck white shirt, fitted black slacks and a black cummerbund with an emblazoned number "5", the former Jackson 5 performer sang a medley of his brother's hits including Scream, Wanna Be Startin' Somethin' and Can You Feel It.
"This is a special moment in the show because it's a tribute to my brother," said Jackson moments before joining Indian singer Sonu Nigam to perform This is it, a song written by Nigam after the megastar's death, which the singers dedicated to the pop icon on stage.
Song Lyrics: 
[Jermaine Jackson]
So folks, I wanna tell ya, how much I love you
Cause I see Michael now in everyone of you
And I wanna give my all and do my best for you
For This is how I'm gonna give my Michael his due
[Sonu Nigam]
So Folks I wanna tell you how much I love you
Cuz I see Michael now in every one of you
And I wanna give my all and do my best for you
For this is how I'm gonna give My Michael his due
Jermaine: My Michael his due
Sonu: his due
Sonu: his due [ x4 times ]
[Sonu Nigam]
This is it [ This is it ]
This is the end of a destiny
Bringin' an abrupt end to a Symphony
[Jermaine Jackson]
Who took him
Took him away without a warning
Leaving the millions here mourning
[Jermaine Jackson]
His music as inspiring as the life he lead
He danced, he sang, he cried, he plead
[Sonu Nigam]
He lift the soul of world and shook the dance floor
And his life was as lonely as a forlorn shore
[Sonu-Jermaine]
So Folks I wanna tell you how much I love you
Cuz I see Michael now in every one of you
And I wanna give my all and do my best for you
For this is how I'm gonna give My Michael his due
[x2 times]
Jermaine: My Michael his due
Sonu: his due
Sonu: his due [ x4 times ]
[Jermaine]
Is that all [Is that all]
Is that all we are gonna hear from him
Sonu:Was he for real or a pseudonym
Jermaine: Time will pass
Sonu: And the world shall find a new Icon
But History will always live on
Jermaine: I wish this wasn't it, though I know he's gone for sure
Sonu: He wanted to heal the world, didn't have his own cure
Jermaine: I wish he didn't care to what people said
[Sonu Nigam]
If he knew how much they loved him
He wouldn't be Dead
[Sonu-Jermaine]
So folks, I wanna tell ya how much I love you
Cause I see Michael now in everyone of you
And I wanna give my all and do my best for you
For This is how I'm gonna give my Michael his due
So folks, I want to tell you, how much I love you
Cause I see Michael now in everyone of you
And I wanna give my all and do my best for you
For This is how I'm gonna give my Michael……
Sonu: Good Bye Michael
Jermaine: Till we meet again
Sonu: Thank you for the Legacy…..
ai..ai…ai…
Nevaan Nigam: Michael Jackson
[Sonu-Jermaine]
So folks, I wanna to tell ya how much I love you [I love you]
Cause I see Michael now in everyone of you [you my brother]
And I wanna give my all and do my best for you
For This is how I'm gonna give my Michael his due
So folks, I want to tell ya how much I love you
Cause I see Michael now in everyone of you
And I wanna give my all and do my best for you
For This is how I'm gonna give my Michael his due
Jermaine: you My Brother
Sonu: My Michael
Jermaine: My Michael his due
Sonu: his due
Sonu: his due [ x4 times ]