Cast: Kamal Hassan, Kushboo, Rubini
Music Director: Ilayaraja
Director: Singeetham Srinivasa Rao
Producer: Kamal Kumar Barjatya
Year: 1989
Apoorva Sahodharargal (Tamil: அபூர்வ சகோதரர்கள்) is a 1989 Tamil feature film directed by Singeetham Srinivasa Rao. It starred Kamal Hassan in triple roles, as a mechanic, a circus clown who is a dwarf and a police officer, along with Gouthami, Srividya, Manorama, Nagesh, Jaishankar, Nassar in main roles. Due to its mega success in the south, the film was dubbed into Hindi as Appu Raja (Hindi: अप्पू राजा) in 1990 and like the original, it was also successful to become one of the cult classics.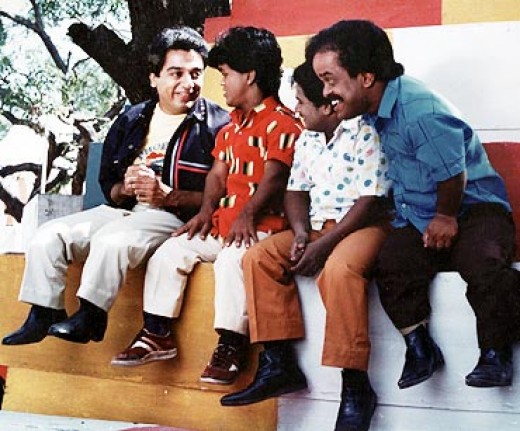 Lyrics
Unnai ninaichen paattu padichen
thangamey gyaana thangamey
enna nenaichen naanum sirichaen
thangamey gyaana thangamey
andha vaanam azhudhaattaan
indha bhoomiyey sirikkum
vaanam pol silapear sondha vaazhkaiyyum irukkum
unardhaen naan
I thought of you, I recited a song
Golden one, dear golden one,
I thought of myself, I laughed too
Golden one, dear golden one,
Only if the sky cries
Can the earth smile
There are some people´s lives like the sky´s
This, I realised
aasai vandhu ennai aatti vaitha paavam
mattravarai naan yean kuttham solla venum
kottum mazhai kaalam uppu vikka ponaen
kaatradikkum naeram maavu vikka ponaen
thappu kanakkai pottu thavithaen
thangamey gyaana thangamey
patta piragey buththi thangamey gyaana thangamey
nalam purindhaai enakky nandri uraippaen unakku
naan dhaan
Unfortunately, hope came and shook me up
Why would I blame any one else?
I went to sell salt when it was raining heavily
I went to sell flour when there was strong wind
I suffered by miscalculation
Golden one, dear golden one,
After it hit me, I regained my intelligence
Golden one, dear golden one!
I have understood well, I will say to you
Thank you
kannirendil naan dhaan kaadhal ennum kottai
katti vaiththu paarthaen athanaiyum ottai
ullabadi yogham ullavarkku thaanum
natta vidhai yaavum nalla maram aagum
aadum varaikkum aadi iruppom
thangamey gyaana thagamey
aattam mudidhaal ottam eduppom
thangamey gyaana thagamey
nalam purindhaai enakky nandri uraippaen unakku
naan dhaan
In the two eyes, I had a fortress of love
Built but it was full of holes
Only for the lucky ones
The seed they plant will become good/fruitful trees
We will keep playing as long as possible
Golden one, dear golden one,
In the end of the game is the time to run
Golden one, dear golden one,
I have understood well, I will say to you
Thank you