Director: Rajiv Menon
Writers: Rajiv Menon (story), Sri Ramakrishna (Telugu dialogue)
Stars: Arvind Swamy, Prabhu Deva and Kajol
Plot: This is the story of Priya (Kajol) and her life. She is friendly, outspoken, sensitive, yet percocious and apt to get into trouble, brought up by her dad, Amal Raj (Girish Karnad). In her senior school days, she has an admirer in the name of Thomas (Arvind Swamy). She starts to like Thomas as well, the only problem is that her dad does not like Thomas' dad. How will Priya be able to convince her dad to change his mind? Why does Amal Raj dislike Thomas' dad?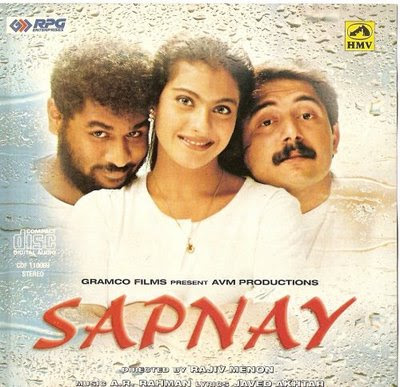 Awaara Bhanware Hindi lyrics and English translation
Awara bhanwre jo haule haule gaaye
(stray blackbees which are singing slowly)
phulo ke tan pe hawaye sarsaraye
(the air is hissing on the body of the flowers)
awara bhanwre jo haule haule gaaye
phulo ke tan pe hawaye sarsaraye
awara bhanwre jo haule haule gaaye
phulo ke tan pe hawaye sarsaraye
ae koyal ki kuhu kuhu
(the cooing of the cuckoo)
papihe ki peehu peehu
(the singing of the sparrow hawk)
jungle mein jheengar ki jhaye jhaye
(the sound of the beetle cricket in the jungle)
nadiya mein lehre aaye
(the waves arrive in the river)
balkhaye chhalki jaaye
(these get bent and overflow)
bheege hontho se wo gungunaye
(they humm with their wet lips)
gata hai sahil gata hai behta pani
(the river bank sings, the flowing water sings)
gata hai ye dil sun sa re ga ma pa dha ni sa re
(this heart sings, listen to do re me fa so la ti do)
awara bhanwre jo haule haule gaaye
phulo ke tan pe hawaye sarsaraye
raat jo aaye to sannata chhaye to
(when the night falls, then, when the silence shadows, then)
tik tik kare ghadi suno
(the clock is creating the sound of tick tick)
door kahi gujre rail kisi pul se
(at some distance, train passes over some bridge)
goonje dhada dhadi suno
(the heavy beats echo, listen)
sangeet hai ye sangeet hai
(this is music, this is music)
sangeet hai ye sangeet hai
man ka sangeet suno
(listen to the music of heart)
baho mein le ke bachcha ma jo koi lori gaye
(holding her baby in her arms, when some mother sings some lullaby)
mamta ka geet suno
(listen to the song of motherly love)
hilko re hilgo re hilko re hilgo re
mangla re mangla re
chori chori bhaiya
(secretly, o brother)
hilko re hilgo re hilko re hilgo re
jangla re jangla re
tu vi ragey bhaiya
awara bhanwre jo haule haule gaaye
phulo ke tan pe hawaye sarsaraye
bheege parinde jo, khud ko sukhane ko, par phadphadate hai suno
(when the drenched birds, shake their wings in order to dry themselves, listen)
gaay bhi bail bhi, gale mein padi ghanti, kaise bajate hai suno
(the cow too, the bull too, the bell in their neck, how the play it, listen)
sangeet hai ye sangeet hai
(this is music, this is music)
sangeet hai ye sangeet hai
jivan sangeet suno
(listen to the music of life)
barkha rani boondo ki paayale jo chhankaye
(when the rains queen crackles the jwelery of raindrops)
dharti ka geet suno
(listen to the song of the earth)
hilko re hilgo re hilko re hilgo re
mangla re mangla re
chori chori bhaiya
hilko re hilgo re hilko re hilgo re
jangla re jangla re
tu vi ragey bhaiya
awara bhanwre jo haule haule gaaye
phulo ke tan pe hawaye sarsaraye
hu koyal ki kuhu kuhu
papihe ki peehu peehu
jungle mein jheengar ki jhaye jhaye
nadiya mein lehre aaye
balkhaye chhalki jaaye
bheege hontho se wo gungunaye
gata hai sahil gata hai behta pani
gata hai ye dil sun sa re ga ma pa dha ni sa re
awara bhanwre jo haule haule gaaye
phulo ke tan pe hawaye sarsaraye
hilko re yeii yeii re hilko re