Wet Wet Wet – Love Is All Around
Written by Reg Presley
Produced by Wet Wet Wet (Marti Pellow, Greame Clark, Tommy Cunningham, Neil Mitchell & Greame Duffin)
Mixed by Bob Clearmountain
Published by Polygram Music
http://www.wetwetwet.co.uk/
Wet Wet Wet's version of "Love Is All Around" was released on May 9, 1994. It topped the UK singles chart after two weeks and, fueled by its appearance in the movie "Four Weddings and a Funeral", remained there for fifteen consecutive weeks. All told, the song spent 37 weeks on the Top 75 survey. "We did everybody's head in in the summer of 1994," commented the band's frontman, Marti Pellow, exactly a decade later. This led to some radio stations banning the song. The band themselves eventually took the decision to delete the record from sale.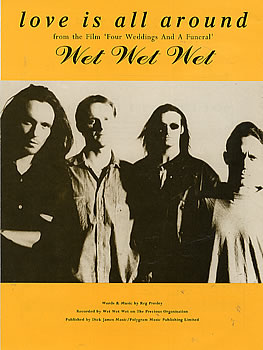 Lyrics
I feel it in my fingers
I feel it in my toes
Love is all around me
And so the feeling grows
It's written on the wind
It's everywhere I go, oh yes it is
So if you really love me
Come on and let it show, woh
You know I love you, I always will
My mind's made up by the
way that I feel
there's no beginning,
there'll be no end
'cause on my love you can depend
I see your face before me
as I lay on my bed, um
I kinda get to thinking
of all the things you said, oh yes I did
You gave your promise to me and I
gave mine to you
I need someone beside me
in everything I do, oh yes I do
You know I love you, I always will,
my mind's made up by the
way that I feel
there's no beginning,
there'll be no end
'cause on my love you can depend
Gotta keep it moving
Oh It's written in the wind
oh everywhere I go, yeah, oh well
so if you really love me, love me, love me
come on and let it show, oh
come on and let it show
come on and let it
come on and let it (come and let it show, baby)
come on, come on, come on, come on let it show baby
come on and let it show
come on and let it show, baby
come on and let it show